Okataina on: Okataina Class Blog - Year 5
Wow time flies! What a busy term this always is. Beginning with Halloween and all sorts of spooky goings on in the Hobbit house, the class learned and re-enacted a speech by the Witches in Macbeth...and did a really great job. They also researched nocturnal animals and made pumpkin hummus, which went down surprising well. Since then we have got really into our learning theme, Once Upon a Time and being Year 5, have added some twists and turns to the stories we love. Watch out for that too in our Class Assembly, coming up this week on Wednesday (29th). In between, we have also had Anti-bullying week, which produced some great work, including responses and discussions to films and scenarios and some great writing about what we would stand up for.
We also had the privilege of being invited to 5 Rifle Remembrance Service, which was very moving. The children were absolutely brilliant. We were invited to the mess afterwards for juice and biscuits and an attempt to blow a bugle!
Coming up, we have all the Christmas festivities to look forward to, including our craft fair and also our Meet and Greet on Thursday 7th, to which all parents are invited to come and have a cup of tea and a cake and have a classroom tour by the children.
So much to do and so little time!
---
Okataina on: Okataina Class Blog - Year 5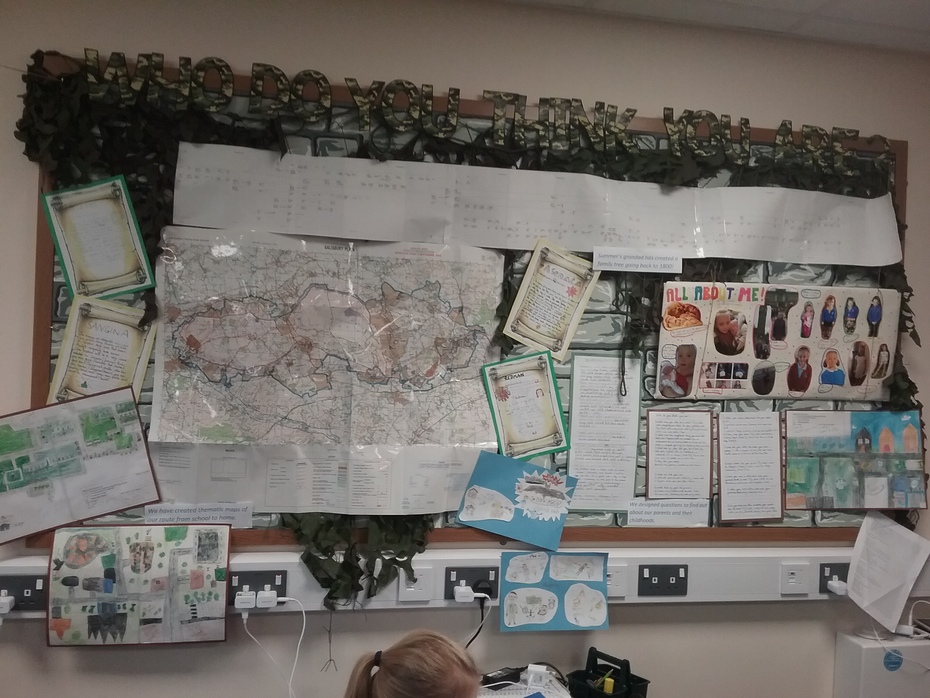 Half Term already!
Wow, it's been a very fast and intense term in Okataina!
Our learning theme of 'Who Do You Think You Are' has helped us to learn about our own families and personal histories. We have all created a family tree, with Summer going back to the 1800s! We also all interviewed our families (with some very interesting responses!) and created a thematic map of where we live. This has all led to an entertaining display (above)
One of our favourite days this term was No Pens Wednesday, where we focused on our communication skills through speaking and listening, rather than writing. This led to some very entertaining sessions – leaf collecting, maths in the playground and drama.
We are all looking forward to a great autumn holiday and then back with renewed energy for more exciting learning next term.
---
Okataina on: Okataina Class Blog - Year 5
It's been an exciting start to Year 5. In art, we have been looking at the work of Banksy and are working with stencils to create our own 'Banksy' masterpiece - we will post our results soon! We met our new football coach from Southampton, Mr Tyson. English has been quite tough as we are learning about different tenses in the past and how to use them to best effect and in maths, it's been all about place value, negative numbers and Roman Numerals. In our science forces work, we made paper planes and investigated the forces that affect how a plane flies.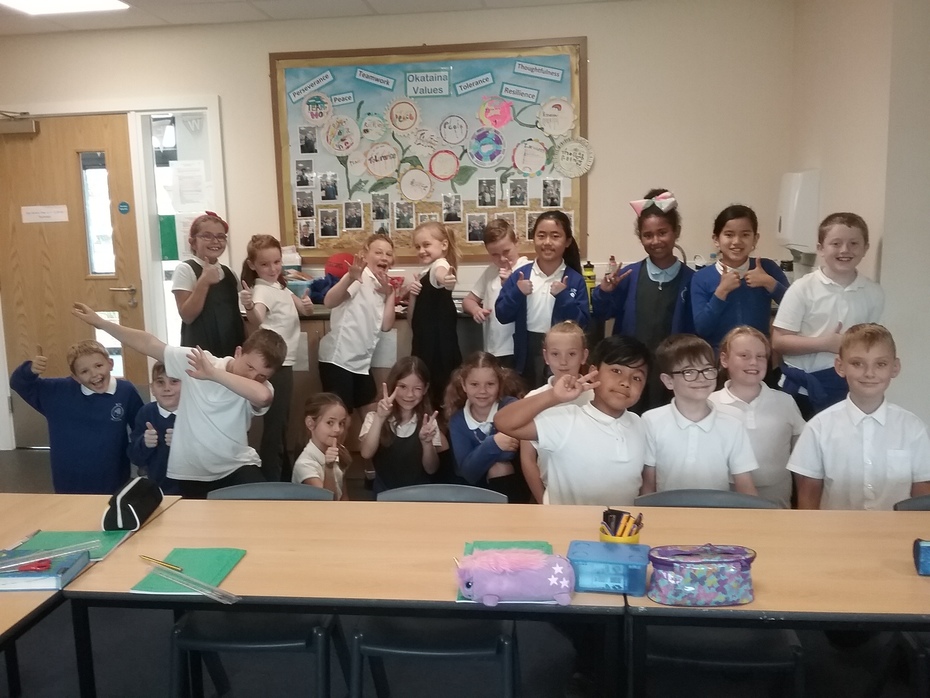 ---